Research
Demands for increased specific power and peak pressures for automotive engines have been mounting in recent years. Light weight and high strength is demanded for the main operating part - piston. This represents the biggest challenges for the engine designers because a boost in the specific power and peak pressures requires an increase in crown and pin boss thickness, leading to a higher piston weight.


R &amp D to Reduce Reciprocating Weight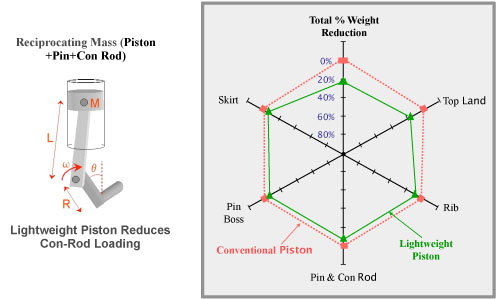 Thanks to the patented NASA aluminum alloy technology, PAC/Rightway has been developing heavy duty NASA pistons with significant weight reduction. The crown thickness has been reduced for many pistons by the unparalleled improvements in heat resistance and fatigue strength that NASA alloy impart. In addition, for those who are seeking more weight saving, PAC/Rightway has made further progress in weight savings by employing the cutting edge squeeze casting process. With squeeze casting, a fine microstructure can be achieved in the high-stress zone, providing much improved fatigue resistance and the resistance to temperature fluctuations.
Using the advanced material techniques and design capabilities, many lightweight high performance piston products have been developed for our customers. PAC/Rightway has longstanding R & D experience and its innovative concepts will be able to help our customers meeting the challenges of tomorrow.

Lightweight Piston Developed for Turbo Engines